On 24th April will be released one of the last, if not the very last public appearance of Louis Armstrong, recorded 5 months before his death in 1971 at a reception at the National Press Club in Washington, anent the inauguration of the new president of the club.
The famous trumpeter played with longtime associates. Joined by Tyree Glenn and  Tommy Gwaltney, Satchmo sang and played without showing any physical weakness. At that time he performed rarely, because of health issues he mostly sung at concerts and didn't play the trumpet. He surprised the crowd that night when he pulled out the trumpet and showed once more his musical artistry which made the appearance even more worthy.
After the concert 300 vinyl copies of the 30 minutes performance were made for journalists. Only two of them remained intact and were used for this release.
The CD called "Satchmo at the National Press Club: Red Beans and Rice-ly Yours" will be released by Smithsonian Folkways Recordings. Armstong used to sign private letters with a phrase derived from the name of his favorite dish "Red Beans and Rice-ly Yours". The CD will include his favorite recipes coming from Louisiana.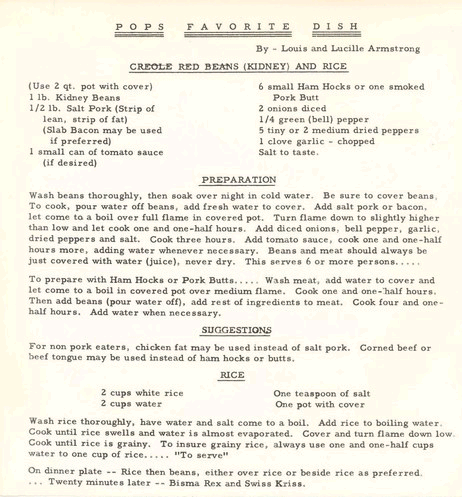 The album will contain 11 tracks, 5 of them were played by Armstrong with the trio that famous night, among them "Hello Dolly", "Rockin Chair" and "Mack the Knife", the other 6 were played by Glenn and Gwaltney at a remembrance concert after Satchmo's death.
Smithsonian will release the album as digital format and celebrate it with the concert on 27th April at the National Press Club.
Track list:
1971 Press Club Concert featuring Louis Armstrong
Introductions (When It's Sleepy Time Down South)
Hello Dolly
Rockin' Chair
Boy from New Orleans
Mack the Knife
Tribute concert to Louis Armstrong featuring Tyree Glenn and Tommy Gwaltney
Royal Garden Blues
Mood Indigo
A Kiss to Build a Dream On
Love For Sale
It's Alright with Me
Crazy Rhythm