The XX2. Jazz Fest Sarajevo poster, which is also the poster presenting the Main Program titled Beyond Good and Evil, through which the oldest music festival in BiH introduces American composer John Zorn has been created by New York-based designer Chippy.
Chippy has her own art studio and creates graphic design artwork for various film, music and web projects. She has cooperated with artists such as Lou Reed, John Lurie, Medeski Martin & Wood, Dave Douglas, Erik Friedlander, Colin Stetson, Brian Carpenter and film directors such as Oscar-winning documentary film director Avive Slesin and Casper Wong.
She is an exclusive designer for John Zorn's label Tzadik and has cooperated with John Zorn on various projects, creating impressively imaginative artwork. She has also created the excellent Chippy Charmers, astonishing characters of Zorn's popular project – The Dreamers.
This year's Beyond Good and Evil Program is a final part of the trilogy by which the Jazz Fest Sarajevo introduces one of the most productive and genre-hopping contemporary composers. The cooperation with John Zorn started in 2016, when Sarajevo hosted the European premiere of The Bagatelles that was followed by the Musick and Magick Program in 2017 and will culminate with the Beyond Good and Evil Program on the 2nd and the 3rd of November. In terms of organization and production, these programs would be viewed as very demanding even by much bigger and richer festivals, which additionally underlines the importance of the cooperation between the Jazz Fest Sarajevo and John Zorn.
The programs will be staged in the Dom policije and SARTR venues, and many of the concerts will be world premieres. The world premiere of the Angels Quartet is particularly attractive, as it will be opened by the The Book of Angels Special Program that has been especially created for the Jazz Fest audience. It will present 5 programs organized in 3 sets on November 2, and 11 ensembles in 3 program sets on November 3.
The program on the 3rd of November will be completely dedicated to the famous Zorn's work – MASADA that comprises the total of 613 compositions. The Festival finale presents 7 ensembles that will play compositions from the third Masada book – the Book Beriah – in a marathon that will present not only some of the best Zorn's compositions but will introduce some of the most important contemporary musicians. The Beyond Good and Evil Program brings together the total of 38 musicians from America, Argentina, Brazil, Japan and Mexico.
The tickets will go on sale at the end of June when the details on the remaining programs, planned to take place in several BiH towns starting from September 1, will also be presented. This year, the Jazz Fest Sarajevo ticket sets will be sold at lower prices than those charged for previous Festival editions.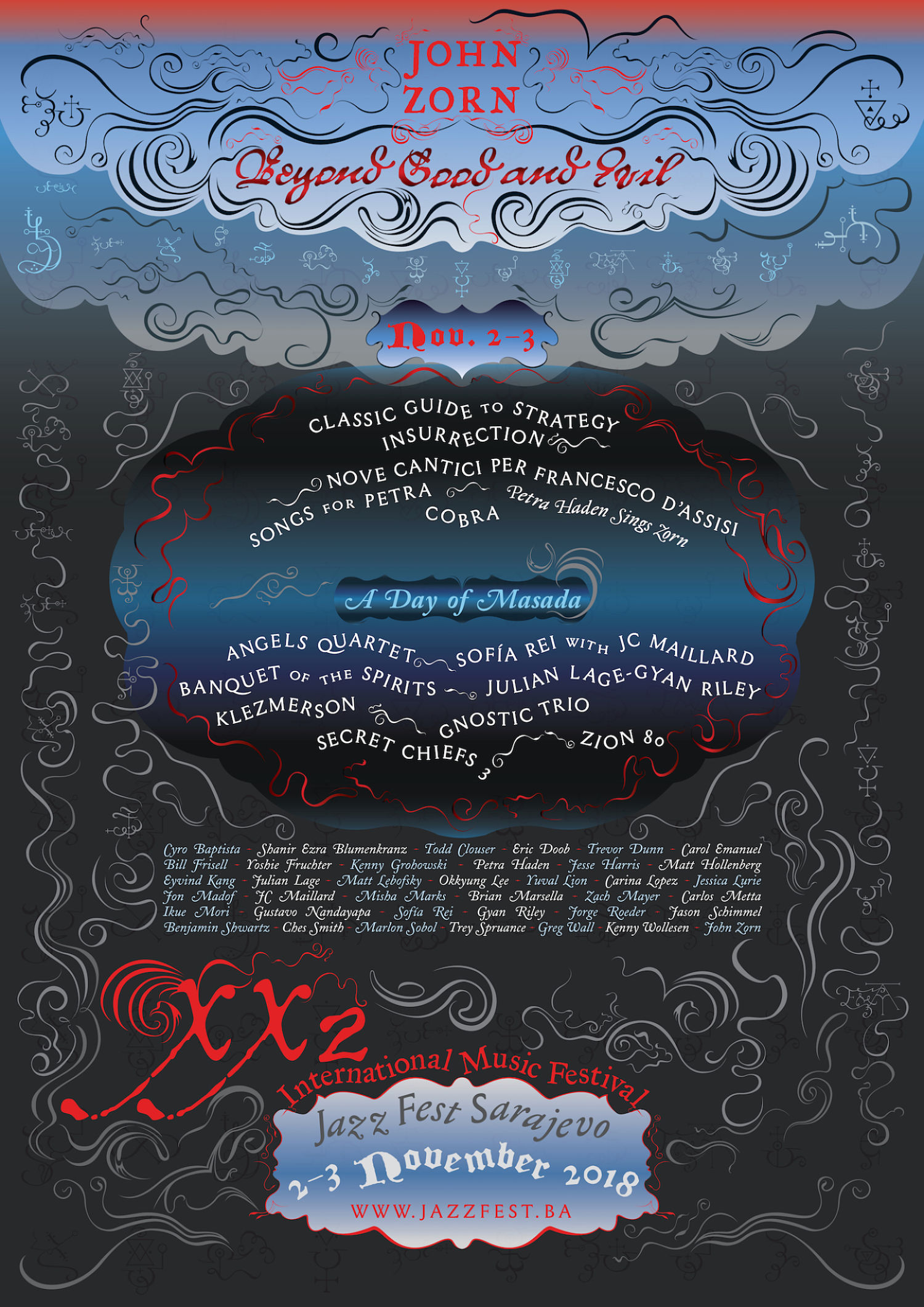 2. novembar
CLASSIC GUIDE TO STRATEGY
John Zorn – saksofon
INSURRECTION
Julian Lage – gitara
Matt Hollenberg – gitara
Trevor Dunn – bas
Kenny Grohowski – bubnjevi
DIECI CANTICI PER FRANCESCO D'ASSISI
Julian Lage – gitara
Gyan Riley- gitara
SONGS FOR PETRA
Petra Haden – vokal
Julian Lage – gitara
Jesse Harris – gitara, vokal
Jorge Roeder – bas
Eric Doob – bubnjevi
COBRA
Julian Lage – gitara
Matt Hollenberg – gitara
Bill Frisell – gitara
Eyvind Kang – viola
Okkyung Lee – violončelo
Trevor Dunn – bas
Brian Marsella – klavijature
Ikue Mori – elektronika
Kenny Wollesen – bubnjevi, vibes
Kenny Grohowski – bubnjevi
Ches Smith – bubnjevi, udaraljke
John Zorn – prompter
3. novembar
THE BOOK OF ANGELS SPECIAL
ANGELS QUARTET
John Zorn – saksofon
Julian Lage – gitara
Trevor Dunn – bas
Kenny Wollesen – bubnjevi
BANQUET OF THE SPIRITS
Cyro Baptista – udaraljke
Brian Marsella – klavijature
Shanir Blumenkranz – bas
Kenny Wollesen – bubnjevi
KLEZMERSON
Benjamin Shwartz – klavijature, violina
Carina Lopez – bas
Todd Clouser – gitara
Gustavo Nandaypa – bubnjevi
Misha Marks –  horna, latarra
Carlos Metta – jaranas, udaraljke
SECRET CHIEFS 3
Trey Spruance – gitara
Jason Schimmel – gitara
Matt Lebofsky – klavijature
Eyvind Kang – violina
Shanir Blumenkranz – bas
Ches Smith – udaraljke
Kenny Grohowski – bubnjevi
THE BOOK BERIAH MARATHON
SOFIA REI
Sofia Rei – vokal
JC Maillard – saz
BANQUET OF THE SPIRITS
Cyro Baptista – udaraljke
Brian Marsella – klavir
Shanir Blumenkranz – bas
Kenny Wollesen – bubnjevi
LAGE-RILEY
Gyan Riley – gitara
Julian Lage – gitara
SECRET CHIEFS 3
Trey Spruance – gitara
Jason Schimmel – gitara
Matt Lebofsky – klavijature
Eyvind Kang – violina
Shanir Blumenkranz – bas
Ches Smith – udaraljke
Kenny Grohowski – bubnjevi
KLEZMERSON
Benjamin Shwartz – klavijature, violina
Carina Lopez – bas
Todd Clouser – gitara
Gustavo Nandaypa – bubnjevi
Misha Marks –  horna, latarra
Carlos Metta – jaranas, udaraljke
GNOSTIC TRIO
Bill Frisell – gitara
Kenny Wollesen – vibrafon
Carol Emanuel – harfa
ZION 80
Jon Madof – gitara
Greg Wall – tenor saksofon
Jessica Lurie – bariton saksofon
Zach Mayer – bariton saksofon
Brian Marsella – orgulje
Yoshie Fruchter – gitara
Shanir Blumenkranz – bas
Yuval Lion – bubnjevi
Marlon Sobol – udaraljke